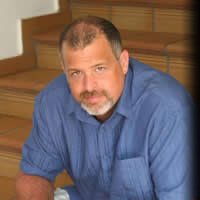 Dave Steele - Voice Overs
Steele Imaging, Ltd.
Dave Steele could have been an electrical engineer. At least, that's what he spent all of his tuition money on. Or, a firefighter, for 8 years, he did that too; from structure fires to auto extrication, even first aid. The other option was scuba search and recovery. He also did that for a sheriff's department. However, none of those career paths really stuck.
Since 2000 Dave Steele has been providing Commercial Media Voice Over's to Radio and Television Stations, Film & Production Houses, Advertising Agencies and more all over the world, from the U.S. to Australia and all points in between. After all, talking to yourself in a quiet room is probably a lot safer than being a firefighter or diver and a lot more fun than sitting at a desk engineering.
Dave started doing voice overs back in the late 90's and in 2000 officially started Steele Imaging, Ltd. His company provides cost effective voice imaging for all media projects across a variety of media platforms.
If you need to make your project jump out of the speakers and grab the attention of your target audience, then Dave Steele can help.
With over 20 years in the media industry and his background in programming and production, he understands what it takes to make your imaging stand out, and he knows how to work hard to get the job done.
With a same day turnaround time, it proves that Dave knows the media industry moves fast, so he has made it a priority to keep up!
Contact Dave Steele for more information about services.
Studio Line: 260-220-3020